Geography has always been something I wanted all my kids to touch on.  I struggled when looking for what I wanted. 
I decided to give Geography I a try from Memoria Press when it came up for review with The Schoolhouse Review Crew.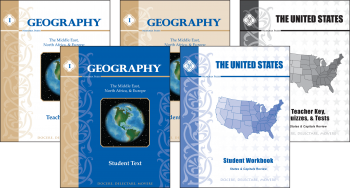 Geography I teaches The Middle East, North Africa, and Europe.
The main goal of this curriculum (text, teacher guide, and workbook) is to master identification of each country on a map, as well as capital cities.  You also learn/research facts about each country.
The way you get to mastery is by learning and review.  Every section has a review and then a quiz.
It is suggested that you study at the rate of 2 or 3 countries a week. 
You read the text book, fill out the worksheet in the workbook, label the country and capital, discuss the country.
Emily used this just like it was suggested and it easily fit into her days.  She has future dreams to travel to Europe, so I let her study Europe first.  She has had such fun learning about the different countries over there. 
I had to supplement with her in order to actually have memorization down.  There are a lot of countries to memorize.  This was easy to do with free games found online, and once she had learned the countries, she actually enjoyed challenging herself.
Check out a sample for yourself.  
Memoria Press Geography I did have many things I was looking for in a geography curriculum. 
The lessons are short
It can be done independently
It teaches more than just location
It is easy and interesting
It is broken down into chunks making it so it is not overwhelming
Emily did mention to me that she wishes the workbook and text were one book.  I happen to like the fact that they were two separate books, that way it was a little harder for her to go back and check the countries when she was struggling to remember them.
The use of Geography I is suggested to come after learning The United States and it's capitals (using Memoria Press States and Capitals)  There for while using Geography I, you can use Memoria Press States and Capitals Review.  However this is not necessary to have done.  We did our states and capitals a few years ago and many of them are much harder to recall than they once were.  This review book was great to be able to freshen up on those. 
Memoria Press Geography I sales for $48 which includes
Geography I Text
Geography I Workbook
Geography I Teacher Guide
United States Review Student Book
United States Review Key, Quizzes and Tests
It is suggested for grades 4 and up.
The Schoolhouse Review Crew was invited to review both this, Geography I as well as Prima Latina from Memoria Press. 
Check  this post out to see reviews of both products.
To see a wide variety of reviews check out our crew blog.