Are you a Nature Nut? What about a Sports Buff? How about a Civilization Junkie? Or even just a Trivia Game Lover? If any of these things interest your kids or even you, then check out this review.

How fun it is to get to review a game. Even better when it's educational, right? RIGHT!
Griddly Games is a company who's philosophy is to offer games that encourage social interaction, learning, strategy and challenges that anyone can enjoy.
The game we reviewed is Wise Alec Nature Nuts. Which can be an expansion pack to the original Wise Alec game, or can be used as a stand alone travel game. Nature Nuts! is a theme based trivia game with a fun twist, the Wise Alec card.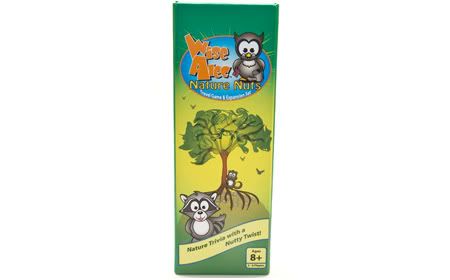 First of all this game came in a cute (that matters), sturdy box, which is a lot smaller than a standard game box. Which makes it a convenient travel size. Do you want to know what my favorite part about it is? It's that the
directions
are printed right on the sturdy box. So it's a quick teach to anyone.
If you already own the Wise Alec board game, then this can be used as an expansion pack to add even more trivia to your Wise Alec game. There are other expansion packs too, like Civilize This, or Sports Buff.
What I Think
Let me tell you they met their philosophy with this game.
Interactive
We had to read the questions to each other and take turns.
Learning
We learned about Plants, Animals, the Earth and even had some tongue twisters and fun stuff happen along the way.
Strategy and Challenging
There is strategy in this game. You have to choose your point question. 3 or 7 points. You are trying to get the most points, but let me tell you that some of those 7 point questions are challenging. And you could roll a Wise Alec, where you may have to do a fun activity to earn your points, or maybe even deduct points.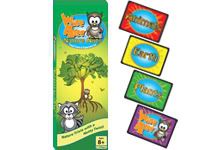 I like to think that we are a game family, however we are NOT a trivia game family. This is in fact our first trivia game we have owned. We enjoyed it when we played it. It was not our first choice out of the game closet though.
While this game says 8 and up. Katey did not want to be left out. What we did was just ask her 3 point questions and then she had to get to less points than the rest of us. (We got that idea right off the rules on the box.)

Griddly games are sold all over, to find a store near you, or to buy online
check this out
.
From looking around this game tends to be less than $20.
Others reviewed this as well check out
this post
to see what they had to say.
I am blessed to review many products for
TOS Crew
this product was one of those.
{I have not or will not receive any compensation for this review. All opinions expressed herein are my own and your experience may differ.}