Piano lessons are something my daughter has always wanted to try.  I was so blessed when I was able to review for Adventus.  Adventus is a company that offers Multi-level lesson plans and software.  We tried out MusIQ HomeSchool.
My daughter had just received an electronic keyboard for Christmas.  This software Piano Suite Premier installed on my computer as easy as to be expected.  I downloaded the lesson plans and thought I was set.  I tried hooking up the keyboard and I could only get it to partially work. After getting fairly frustrated trying to get this set up,   I made one quick phone call to customer service.  They helped me out in a jiffy.  I was up and running in less that 15 minutes. 
We began the lessons.  I say we, because I did some of them as well.  They begin out fairly simple.  You do one lesson a week and then practice every day. Not knowing what we should practice we played around in the software by playing in Piano Player.   We had the most fun doing this.
Well the lesson plans were written for Homeschoolers we had a hard time following them.  So we just worked on where ever we had left of the lesson before.  We would both spend about 30 minutes each lesson.  I feel that we both learned so much more than just merely how to play the piano.  We learned music and piano history. We learned how to read notes.  We learned proper piano posture and more.
One thing that held Emily back from practicing more is that she struggled to hook it up each time.  For us (possibly our keyboards fault), you have to be very precise in the order you hook it up in.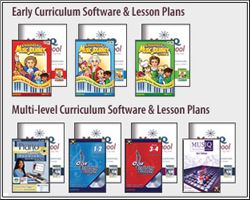 MusIQ has so much to offer, are ya ready for it?
well, here goes.
Early Curriculum for Ages 4-10
- Children's Music Journey Volume 1
-Children's Music Journey Volume 2
-Children's Music Journey Volume 3
-Beginner Level 1 Lesson Plans
Multi-Level for Ages 10+
-Piano Suite Premier
-Ear Training Coach 1&2
-Ear Training Coach 3&4
- MusIQ Homeschool Early Curriculum Year 1-3 Bundle with Piano Keyboard is $309.95
-Year 1 Quick Start Bundle with Piano Keyboard is $169.95
-Year 1 with Lesson Plans is $69.95
-Year 2 with Lesson Plans is $69.95
-Year 3 with Lesson Plans is $69.95
-Year 1,2,3 with Keyboard is $279.80
-Year 1,2,3 is $179.95
-You can buy Lesson Plans only for $29.95
- You can subscribe to lessons monthly for $10.95 (no lesson plans included)
You do need a MIDI Keyboard to use the program though. You can purchase one through Adventus.
You can also try a free 7-day trial here.
Adventus even offers additional resources over at MusIQ Library.
Piano Suite Premier is what we used.  Here are the components of it.
Theory Thinker Basic music theory, notes, measures and more.
Piano Player Piano practice.
Composers Corner Compose your own music.
Games Just plain fun and games here.
History Happens: Learn about the history of the piano to composers throughout history and more!
Library: Over 500 different songs you can learn.
Are you ready to buy it?
Don't forget you need a MIDI capable keyboard with MIDI cord as well as a computer to connect it to and an internet connection.
To see what others think of this check out this post. To see a wide variety of reviews check out our crew blog.