Visual Learning Systems is a company that offers science for the visual learners.  Their mission is to provide high quality, visual-based content that instructs, challenges, and inspires students. 
They offer their levels of science in both English and Spanish.  They are also available as DVD format or a yearly online subscription. There are two levels of the online subscription.
Digital Science Online: Elementary Edition (Grades K-5) (This is primary as well as elementary science.)
Digital Science Online: Secondary Edition (Grades 6-12)
These are both $99 for a year subscription.
About The Company:
They are able to fulfill their mission by having video lessons that are engaging and neat. There are also extensive teacher guides that include everything from a pre-assessment, to worksheets with vocabulary and quizzes, to post-assessments and hands on activities and experiments to try.

About The Product:
I received a year of their online subscription.  I used this with my 4th grader who is a very visual learner and loves computers. 
Once you log into your account you will see a list of topics for that level.  I just let Katey choose her topic and we jumped around, but you could easily go in the order they are listed.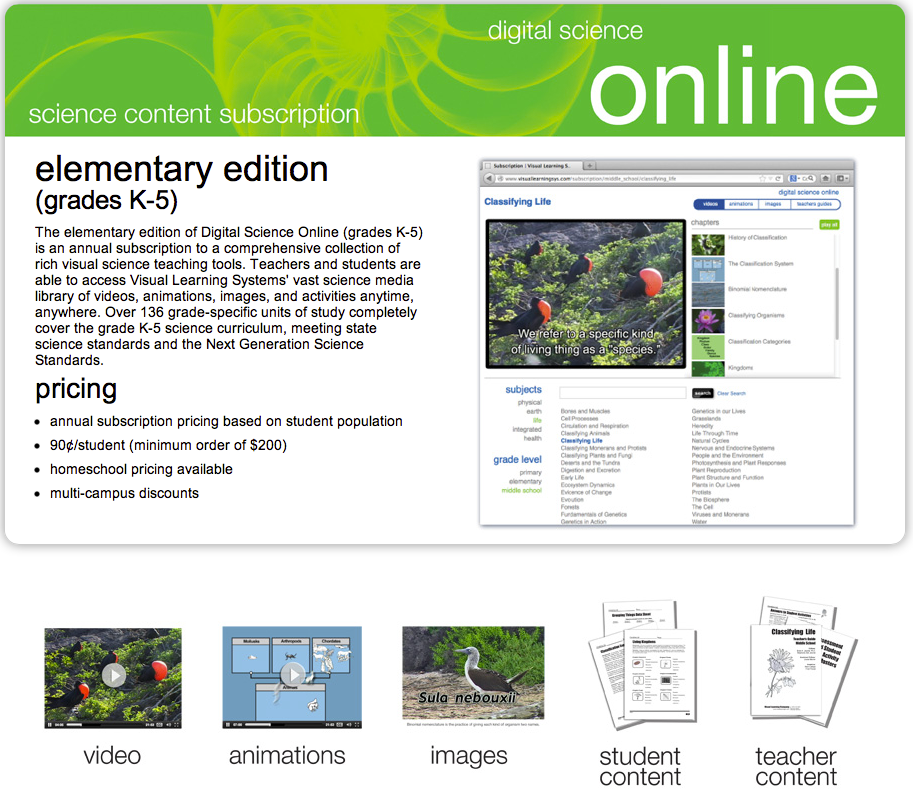 Once she chose a topic, I would look at the pre-assessment and we would work through that together.  I am not big on giving a test on many things let alone a test she is highly likely to fail.  So we treated it more as a pre-discussion than a test. Then she would watch the video.  They are about 10-20 minutes in length and they were fascinating.  They held her attention and were not cartoonish or babyish as she would say.  She loved that it felt like older kid science but that topics were presented in a way she could easily comprehend.  The first day we did a few of the worksheets that went along with it. After that we decided to just discuss the videos and then do some of the hands on projects.  This was much more realistic for me as a homeschool parent. 
More than once the videos would grab the attention of one of her siblings also.

Our thoughts and feelings:
Science is something that I struggle to teach as a homeschool parent.  It just takes so much time.  Last year I ended up teaching a science class at co-op just because that made more sense to do.  This year, I don't have that kind of time, so I was really excited to be able to try out Visual Learning Systems.  This makes teaching much easier on me. and my daughter seriously loves this program.
Something I really liked about this program is how versatile it really is. They give you everything you need and more, it's up to you how you use it.  This could be used as a stand-alone science program, it's that comprehensive or as a supplemental program to a science you are already using.
We used it as a stand-alone program (and we still are.)
Katey loved that she didn't need to wait on me to do science, she could just watch the video and talk about what she learned.  I even caught her watching some videos twice.  The hands on activities that are recommended are simple enough, educational enough and fun enough to make this program well rounded.
Find them on social media here:
Facebook -http://facebook.com/visuallearningsystems
Twitter - https://twitter.com/visualearning

To see what others think of this check out this post. To see a wide variety of reviews check out our crew blog.