Apologia Educational Ministries is a company that provides many types of creation based materials, from science, to worldview, to devotionals and more.
This time I reviewed a devotional book, Journeys of Faithfulness by Sarah Clarkson. ($13.00) Check out the Table of Contents.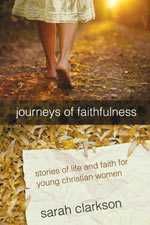 This book is what I consider Bible based fiction.  The beginning of each chapter is a story in which you will read about 3 girls, Ruth, Esther and Mary.  Each of the stories you will read are similar to the ones in the Bible. However, it uses fictional accounts of some of the details and feelings of these women. 
Next comes a devotional straight from Sarah Clarkson's heart.  There is a Bible Study along with Scripture references for you to look into.
Following that comes the "Journey Journal".  Which is a place where you can document your own discoveries and feelings as studying the Bible.
If you check out this sample chapter you will easily see the layout and flow of the book I am talking about.
This book is recommended for girls ages 12 and up. 
I felt I needed to read it and study it first before I let my 12 year old daughter delve into it.  I have taken the time to really dive into this book for me.  I have actually never read/done a devotional type book before. I am very happy with the layout of the book.   I enjoy how the book reads as fiction.  Having the Bible verses listed in the Bible Study section helped me to be able to read straight from the Bible and get the knowledge from there.  The "Journey Journal" right there at the end of each chapter is my favorite thing about this.  I was able to jot down any thoughts, feelings or questions I had very quickly.  I liked that there were 3 pages for me to fill in as I am a doodler. 
See.
I haven't quite finished the book yet, but when I do I will let my daughter go through it on her own. Yes, my book, then she can see all my journaling notes and add hers to it.  I think it will be nice to pass it on to her this way.  I will also have already gone through it and studied it so if any questions arise I will be ready.
To see what others think of this check out this post. To see a wide variety of reviews check out our crew blog.
Disclosure: As a member of The Old Schoolhouse Homeschool Crew I review products, like this, which I receive for free in order to be able to share my honest opinion.  No other compensation is provided.