I was beyond thrilled when Activity Bags asked us to review some of their books.  I already owned one of their Preschool Activity in a Bag books.  So, I already knew how great these can be.  Plus if you know me, you know my obsession with Zip-loc bags.
I was able to receive all 3 Science Experiments in a Bag books as well as Reading Games in a Bag.
Let's begin with the science books.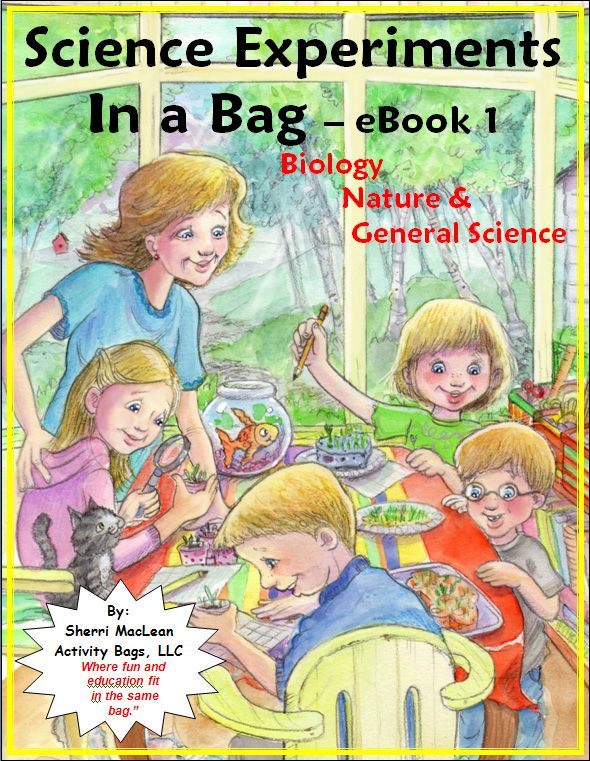 The books individually cost $15.  There are also bundle deals that reduce the cost even more.  You can get all 3 science books for $39.  Science Experiments in a bag books 1 & 2 also include the coordinator instructions.
Each book has 25 experiments.  Each experiment is meant to be pre-assembled and then put into a bag.  What I mean by pre-assembled, is that you gather all the non perishable supplies that you need ahead of time and put them together in a plastic bag.  That way you can just grab-&-experiment. 
To get started with this review, I spent 1 night going over all 3 science experiment books, familiarizing myself with them, seeing what kind of experiments there were, and figuring out which supplies I would need to purchase.  Surprise at the end of the book there is a general supply list of what you will need for each experiment.  (Not a complete list, but very helpful none the less.)  Book 3 is set up a little different as it has the supplies listed out only on the experiments at a glance page. 
After go through the books, I then made two supply lists, one of which was supplies I already had around the house (paper plates, straws, toothpicks, etc.) The other list was supplies I would need to purchase (potting soil, ping pong balls, Mentos, balloons, etc.)  Putting together each bag should cost around $1 each.  In my experience, some of them were a little more, and some were much less, as I already owned many of the supplies.  I just decided to prepare all of the bags individually for my family, at first.  I could see how preparing multiple of the same experiment could reduce the cost even further.  In fact, with my leftover supplies I am going to make up science bags for some of our family friends for Christmas gifts.  I know they will love them!
Book 1 has 25 experiments all from biology, nature and general science. 
One of the experiments from book 1 is "Web Crawler" which is where you force a spider to build a web.  I had this activity ready to go in a bag, but we were visiting Grandma when we found a spider, I knew enough from reading and putting the bag together what to do.  We were able to improvise on some supplies in this instance.  We forced a spider to build a web right in front of our eyes.  It was very neat.
Book 2 is full of chemistry, human body and general science.
Here is an experiment we did using our breath to move a ping pong ball. 
Some experiments from Book 2 include:
Sparky Sparker- Where you make your own lightning and learn about electrons.
Finger the Culprit – Where you learn about fingerprints.
Dancing Peanuts – Where you create a chemical reaction that makes peanuts dance. (Don't worry here if your family has nut allergies, you can substitute raisins in.)
Many, Many more fun ones!
Some Experiments from Book 3 include:
Iron Mining – Where you discover how much iron is in your juice.
Secret Message – Create your very own invisible ink.
Jigglin Gel – Where you trap a liquid in a solid. 
Plus tons more! 
Each science book comes with experiment logs for each experiment that include directions on how to do the experiment, observation questions, and notes etc. 
I keep track of that on the "experiments at a glance page" in the front of my binder full of the logs.
I have an X next to the ones I have pre-assembled.
~~~~~~~~~~~~~~~~~~~~~~~~~~~~~~~~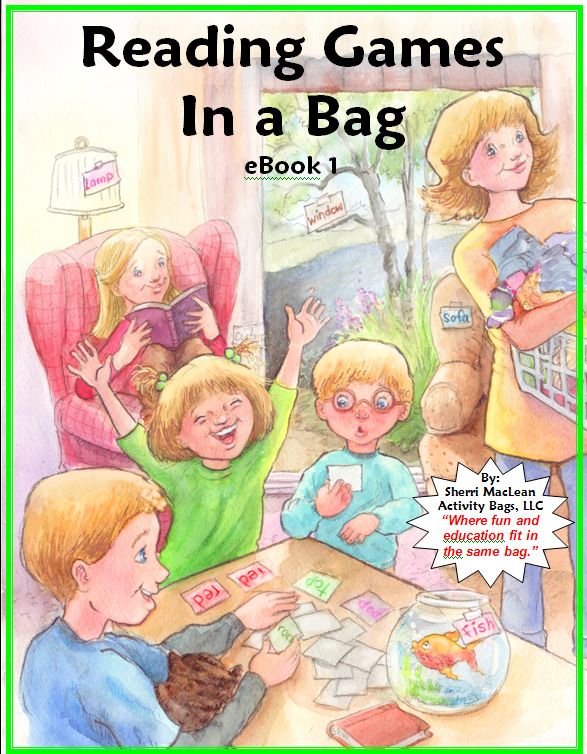 Reading Games in a Bag ($15)is full of what I consider multi level activities.  While they are said to be for beginning readers, some of them proved too difficult for my beginning reader, and some of them were just right for my older kids. 
Reading Games is just that, games!  There are 20 reading games here.  They range from Alphabet, to State Abbreviations, to Label it. These games are so simple and fun that the kids don't even realize it's educational. 
Here is Katey playing Silly Sentences.
Here is the sentence she made.  Sure it doesn't make sense, but she read it and laughed. (I laughed too.)
Here are all of us playing The State Abbreviation Game.
I did give my printer a workout with printing out all of these things from all 4 of the books I received.  I realize that keeps the cost down of the books themselves.  This also allows me to only print activities that will work for us at the time.  For instance, I only printed off science experiment logs for the experiments I have completed putting together.  
To see what others think of this check out this post. To see a wide variety of reviews check out our crew blog.
Disclosure: As a member of The Old Schoolhouse Homeschool Crew I review products, like this, which I receive for free in order to be able to share my honest opinion.  No other compensation is provided.