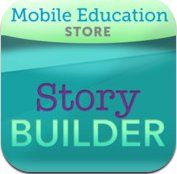 Story Builder is an app for iPod touch or iPhone and even the iPad from Mobile Education Store. The iPod touch with microphone (4th generation) is the only iPod that will work with this, however all generations of iPad and iPhone with ios 4.1 or later will work.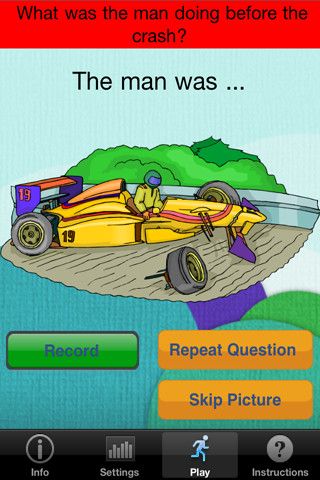 The features of Story Builder are:
Record feature allows students to record narrative in their own voice
3 levels of play
Simple and intuitive interface to record narrative
Recorded answers are stitched together to create complete narrative
50 distinct story lines to create narratives from
Over 500 audio clips of questions to guide narrative
Optional question text and answer introduction reinforcement
The app gives story prompts and helps you to remember to speak your story in complete sentences. There are pictures to help you think of ideas.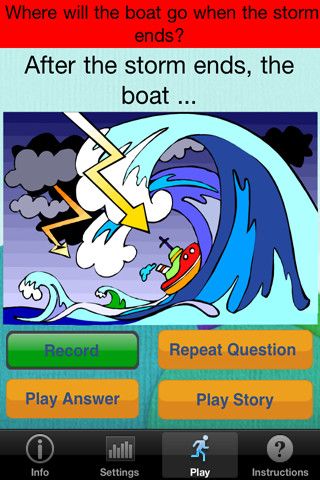 There are 3 different levels, the first one asks you four questions, the second one asks you seven questions and level 3 asks none!  You completely make up your own story.  This really helps with forming complete sentences and paragraphs.  Along with narration work. 
The stories they create can even be emailed in order to be saved.  This could be good to email to grandparents, speech therapists, and more.  You do need to open them up in Quick Time, which it states in the email the story is sent in, however it still took me a minute to understand how to do that.  (It isn't my default player.)
We did tend to get a little silly with our stories.  That's how we roll around here. 
This app can be purchased in the iTunes store for just $5.99 for iPod or as an iPad app for just $7.99.
Mobile Education has a plethora of educational apps in iTunes.
Story Builder even won Best Reading App 2011 from The Huffington Post.
To see what others though of this and another Mobile Education app check out this post. To see a wide variety of reviews check out our crew blog.
Disclosure: As a member of The Old Schoolhouse Homeschool Crew I review products like this, which I receive for free in order to be able to share my honest opinion.