BOX of I.D.E.As is a company that provides activities surrounding particular subjects.  I was surprised at some of the subjects of their boxes.  Salt was one of the subjects that I thought, how much could you really learn about salt?  
This is a company/product that I may not have heard of if it wasn't for The Schoolhouse Review Crew.  This is something not to be missed! 
As you will see throughout this review we have really learned a lot and had fun while doing it. 
It is amazing how much you can learn from and about Salt. With Box of IDEAS, Salt it is amazing how much fun you can have learning from and about salt.
There are 10 units in the Box of Ideas, Salt.  The units can stand alone and be done in any order.  Each unit or module includes a introduction, description, weblinks, extension activities and a portfolio piece. 
History of Salt:
You learn the important role salt played in the worlds history.  For the activity you create a fun salt timeline.  We did this by taking turns reading each one and putting it where it belongs.  The kids loved doing it this way since they were able to be active while learning. 
Language of Salt:
In this unit you learn about many words derived from salt, as well as some idioms.  Then  you play a matching game.  Matching words derived from salt.  To see if you made a match you see if the types of salt on the back of the card match. 
Need for Salt:
In this unit you learn about how our bodies need sodium.  You research sodium on nutrition labels here as well as keep track of your daily salt intake.
Preserving with Salt:
You learn about how salt is used to preserve many things.  Your activity for this one is a trivia board game. 
Producing Salt:
Here you will learn about how we get salt.  This is a matching game you play to learn about many places we get salt.  
Science of Salt:
In this unit you will learn about how salt is used for all kinds of things.  There is a simple research project here as well as some science experiments and a lab report.
The Salt March:
Here you will learn about the British Salt tax and how it was protested.  This activity is a mix between a timeline matching game as well as a map of The Salt March. 
The Salt of the Earth:
This one you learn about all the places on Earth salt is.  The extension activities here have you researching where salt comes from, as well as a mapping activity. 
The Wall Salt Built:
You guessed it, in this unit you learn about the important role salt had in building the Great Wall of China.   This activity is done card game style. 
Very Salty:
Here you will learn about the salinity of many salty lakes. The activity here as you match the cards and put them in order of salinity.
Each of these units have taken us approximately 30-45 min each. With help my younger two were able to play along as well.  With a little guidance my older children were able to be fairly independent at it, however I had so much fun doing it with them, that I did. 
See, we did learn an awful lot about salt and had fun while doing it.  Plus the prep was really easy.  I just printed out the pages I needed.  It tells you exactly which ones and how to print them right on the first page.  I love this feature!  Then I cut out any game pieces needed.  Next we read the first few pages and checked out the web links provided and headed on to the activities.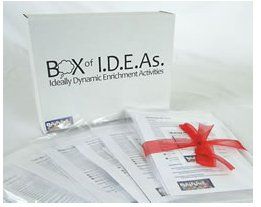 Box of Ideas, Salt comes in either PDF (which I received) for $49.00 or the same product in physical form already printed and cut up for you for $79.00, extra physical student forms are $4.00. 
Box of Ideas also has boxes on different topics, some are quite unique.  Laundry and Quilting for instance. There is even one all about eleven.  They also have a WWII box. More are coming soon too.  The crew reviewed a variety of these.
To see what others though of this one and others check out this post. To see a wide variety of reviews check out our crew blog.
Disclosure: As a member of The Old Schoolhouse Homeschool Crew I review products like this, which I receive for free in order to be able to share my honest opinion.