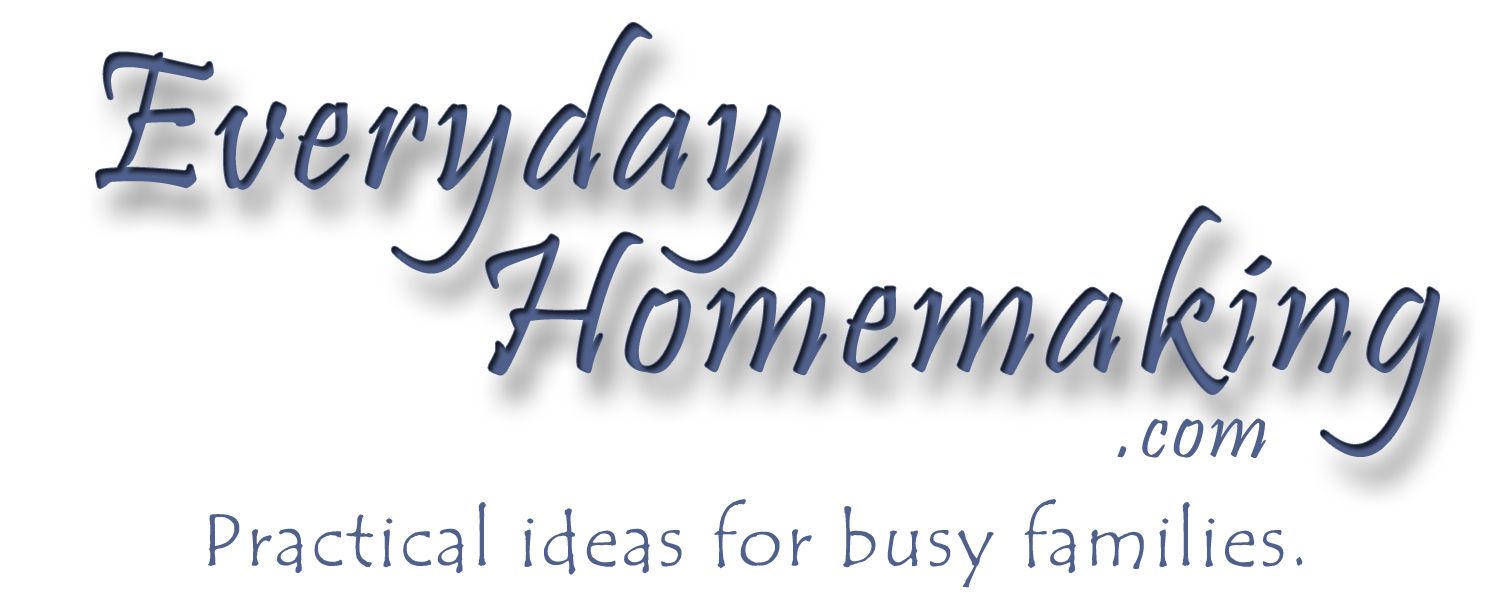 Everyday Homemaking is a company that specialized in making the everyday go smoother for today's busy families. 
I have read their book The Everyday Family Chore System.  Let me share with you a little bit about the author.  She is a mother to 8, a foster mother to over 50, a grandmother, speaker, author and much more.  Along with her husband they homeschooled 17 children.   
I would imagine that she had to have an amazing chore system to keep up with a life that busy.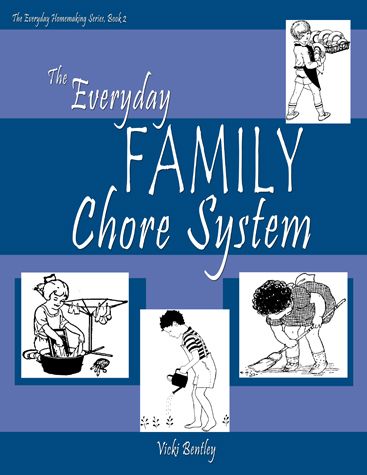 I had the opportunity to read the book (in e-book form) in which she shares her amazing system, The Everyday Family Chore System.  $19.99 for coil bound, $17.99 for e-book(instant download).
This book is divided into 3 sections. 
Laying a Foundation
Implementing the Plan
The Actual Chore System
Her system begins with young children and training them to do chores.  She provides lists of age appropriate chores, chore cards, as well as how to do it cards, written out, but with room left to personalize it to how you like it done.
I have always had a cleaning system in place.  I just can't function without one.  I have used them all from elaborate to very simple.  Some where in between and flexible is what I really need.  That is exactly what I got.  I am not kidding you,  the system I was able to implement after reading her book has changed the way my house looks and my stress level about it, BOTH FOR THE BETTER!  (And the kids cooperate with out complaining too much!!)
Her system has a few basic points to implement and from there on out is so flexible.  (There are also GREAT TIPS!)  The way we chose to use the system is with clothes pins and a door hanger.  I usually hang it on a cupboard handle, as and easy visual reminder.  I did not use her labels or how to do it cards.  We chose to write directly on the clothespins and write our own how to cards.  We then have "inspectors" once in awhile that use the cards as their grading system, since they were all already trained in these basic jobs.  The how to cards (or "inspector cards" to us) are very useful for jobs that they don't do very often. 
I do recommend this book to any family trying to get a chore system in place.  I have also heard nothing but good things about her cookbook, which some of the crew reviewed.  I would love to have it for myself.  I have read over quite a bit of her website and blog and I am impressed with those also.  I would really love to hear her speak.  She is such an inspiration to me now. 
This post was written on behalf of the Molly Crew.  Do you know who Molly is?  If so, you are probably already being blessed by her and her frugal ways, if not, check her out! 
To see what others though of either book check out this post. To see a wide variety of reviews check out our crew blog.
Disclosure: As a member of The Old Schoolhouse Homeschool and the Molly Crew I review products like this, which I receive for free in order to be able to share my honest opinion.