Homeschool Legacy is a company that provides families with fun (seriously, this has been fun!) once a week unit studies.  We were able to review:
 We The People: Getting to Know Your Constitution.
This 79 page unit study book is priced at $19.95 and recommended for grades 4-12.

What's a once a week unit study, you ask?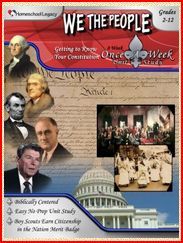 Well, it is a study of a topic such as, We The People, or Lewis and Clark, Forest for the Trees, and many more that are offered through Homeschool Legacy.
These unit studies are intended for you to read certain selections every day, and use a book for a family read aloud daily.  Then one day a week, say, Wednesday, that would be unit study day, where you would drop all other studies and immerse your children, and yourself, into the topic that you are studying, using ideas and suggestions from the unit study itself.  These activities include things like reading, discussions, family devotionals, games, crafts, cooking, field trips (many virtual) and some were to local places like court houses, researching & presenting.
Once a week, you also have a family night, say, Friday.  On Friday you would watch a movie, play a game or make a craft.  Each family activity revolves around the topics of the unit study for that week. 
How we have been using it.
I already have a homeschooling schedule that has been working really well, and we are out of the house one day a week for co-op classes, so I wasn't willing to use another entire day just focusing on the unit study.  We decided to divide the one day activities into two afternoons, one per week, so each unit for us takes two weeks. This is also helpful for us to be able to get through more of the many many book recommendations they provide.   This was very easy to implement into our existing schedule. I mean easy!! 
I was able to use the quite extensive book list, which included Dewey Decimal numbers to check out books very quickly.  While my library didn't have very many of the books listed, having the Dewey Decimal number made it easy to be able to go look in that section to see if there were other books that may fit the topic.  It also made it extremely easy to request any book on interlibrary loan.  This was a huge timesaver for me.  More than I would have ever realized. 
The unit study told me step by step what to do.  When I say step by step, I mean it too.  For example when we were to build a timeline.  These were the steps:
Fill your 3-ring binder with loose-leaf paper.
Open your notebook so that there are two pages facing you. Those two pages will represent one hundred years.
Now draw a horizontal line across those two pages. Make five short, equally spaced, vertical marks, perpendicular to your horizontal line, on each of those facing pages for a total of ten vertical marks. They will each represent a ten year mark.
Title the top of your first two pages "The 1700's A.D."
You can now record various historic events and people as you learn about them. Feel free to get creative by drawing your historical figures and events to include interesting characteristics you learn about them.
What a great idea for a timeline! 
One of the neat things you do over the course of this unit study is read the entire Constitution. Your children will know more about our Constitution than the average adult. 
Every aspect of this unit study has been very teacher friendly and the activities have actually been fun.  Seriously fun! 
Here is a picture of the Preamble Scramble game we played.  My kids have requested to play this game multiple times, even since we finished the week it was for.  That is a neat thing!
In fact it has been requested so much that we play this game and have some friendly competitions that I decided to mount it on magnets to play on our white board.
We learned how a bill becomes a law.  To learn the Bill of Rights you play "We The People Concentration". 
For the three branches of our government.  We made this tree and in future weeks we will put leaves on with roles and responsibilities of each branch.
We The People Unit Study includes many subjects;
History (of course)
Art and art appreciation
Writing
Lapbooking
Research
Videos
Field Trips (virtual and in real life)
and more!
Something that makes these unit studies really appeal to me is how family friendly they are.  They promote family time.  I just love that.
Another appealing thing is how budget friendly they are.  They plan on you using your library to check out books and videos.  While some videos suggestions are on Netflix.  Many of the games are copy, cut and play.  It does suggest that you purchase an inexpensive set of encyclopedias.  We did not do that and have been doing just great. 
Once you check out your library books it is practically ready to go. 
Homeschool Legacy Once a Week Unit Studies include clearly marked requirements for Boy Scouts, American Heritage Girls, and 4H.
This unit study is supposed to take 8 weeks.  It will take us longer than that, and we are okay with that since we don't want it to end.
Wouldn't this be fun to study right now as elections draw near?  I mean you learn the entire electoral process.
There are other Once a Week Unit Studies. Such as:
Birds of a Feather
Forest in the Trees
Horsing Around
Weather on the Move
Knights and Nobles
Native America
Early Settlers
Lewis and Clark
Revolutionary Ideas
The Schoolhouse Crew reviewed a variety of these.  Check out this post. To see a wide variety of reviews check out our crew blog.
Disclosure: As a member of The Old Schoolhouse Homeschool Crew I review products like this, which I receive for free in order to be able to share my honest opinion.