Hi there, I am so glad you stopped by. Leave a comment and let me know what games you play in your home. Don't forget to follow me over in the sidebar, you won't want to miss a thing.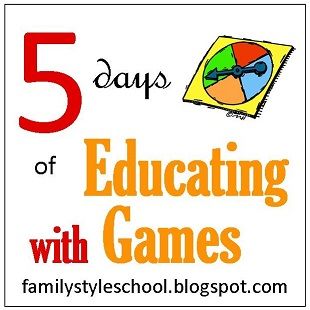 Did you catch my first post in the 5 Days Of Blogging series?
It is all about the life skills you learn through games.
Today I am going to discuss some reading games.
Some of my families favorite memories are when we do book parties. These aren't really games, per se, but we do play games at the parties. We read a book, maybe a chapter book, maybe a picture book. Then we do activities that go along with that book, or the theme of that book.
Here are a few examples we have done.
Winnie The Pooh (chapter book)
Andi's Pony Trouble (chapter book) – We love this series. She has many activities online that go with each book in the series.
Charlotte's Web
Secret Garden
Nanuq
We also love the Five in a Row Curriculum. We have done many Before Five in a Row activities.
All About Reading Pre Level 1 and Level 1 are both full of games, matching, rhyming, and more. Plus they come with a super fun zebra puppet that "plays" the games with your child.
We also love to have Read-A-Thons. Which is where we spend the entire day reading. We have snacks and drinks. We read aloud and read silently to ourselves. We make forts to read in and have special reading spots.
Kids scoop is another great way to get kids to read. They usually don't even realize they are reading with these. I print a few off each time we go on a trip. They are full of word searches, fill in the blank, and more.
There are a few reading games that are either on the market or I have made that I have written about before.
Sight Word Games
Sight word ball
Jump to it
Sight Word Stairs
The Reading Game
Vocabulary
Vocabulary hat game
Older Kids
Scruble Cube – a fun scrabble/ rubix cube type travel game.
Computer Reading Games
Ooka Island
Reading Kingdom
Reading Eggs
Reading can be made into games if you get a little creative. Take into consideration how much effort you want to put into the game. For me it is usually minimal. I find a lot of my games at Free File Folder Games.
We also make or buy 3 letter word cards and you spell the words.
Right now I play a beat the clock game almost every day, where my first grader reads a list of words as fast as she can. I set a timer, because that helps her stay focused. For some children that may be detrimental. She gets a sticker after reading them fast enough (which to me is just knowing them from memory).
I hope these posts are bringing you some inspiration to bring reading games into your home.
Check out all the other participating blogs! There are no 2 topics alike.
Stay tuned for
Day 3 Science/ History Games
Day 4 Math games
Day 5 Our favorite Games
And here is Day 1 Life skills, in case you missed it.
What reading games are your favorites?