Yes, OOKA ISLAND is a reading game!
Ooka Island is a fun learn to read downloadable game (while you download quite a large file, it took my brand new Windows 7 computer with a fiber optic connection, just over an hour, you still need an internet connection to play). 
Ooka Island is not just random playing around.  It is an organized program.  I took this straight from their FAQ Page on their website to help explain it. 
The Ooka Island Adventure starts with 20 minutes of guided play where the player is guided through a customized learning path through the 7 activities on Ooka Island. After 20 minutes of guided play the player unlocks the next book on the Book Path, reads the book in the Popcorn Library and completes the comprehension and vocabulary activities. The player is then rewarded with 8 minutes of Free Play where the player can play in any unlocked activity on the Island, purchase items in the Mist Mart, or play with their Ooka Elf friends in the Pencil Playground. When Free Play ends, the player starts the cycle again, beginning with 20 minutes of Guided Play.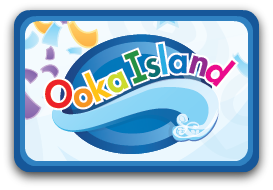 Ooka Island starts of in the "Cave of Sounds" each time you get on.
The Cave of sounds is a fun journey through a sound cave. Where you click when you hear the correct sound.
Katey really enjoyed this, she would beg to play it each day.  I also did see a marked improvement in her reading confidence.  There were some technical difficulties such as the game would freeze and have to reload, and sometimes the speech of the characters was hard to understand.  It would say a sound that was very hard to decipher, even for me. She stuck through the game for about 3 weeks and then she said she was tired of always having to go through the cave of sounds, but that she loved "skateboarding down the mountain".
Some of Katey's favorite activities are; unlocking books in the Popcorn Library and rescuing Ooka Elfs.  After you read along with a book in the Popcorn Library, you take a short comprehension quiz on it. 
Katey also loved having her 8 minutes of free play. 
So while Katey no longer chooses to do this on her own.  I am still going to have her play this at those times when I have a sick day, or when I need her to be able to work on something on her own.
The things I liked about it are the things Katey didn't.  I like that she had to go through the activities before she could choose what to do, otherwise she would have only chosen her favorites and not really learned much more.  I like that it has a built in reward system also, the free play.  I would have liked some type of assessment so that it would be more individualized.  I have heard they are working on that. It was not available when I wrote this review. I also would have liked to have a way to be able to check her progress without sitting over her shoulder the entire time. 
While I think that learning to read is all about making memories while snuggling, this is a nice addition. 
To learn more about the OokaMethod, which is great, check this out. 
Keep in mind as this program is brand new and innovative.  They are constantly working out any kinks.  They even have live chat available often if you are having any problems.
Pricing for Home use is as follows:
You can try Ooka Island for free!!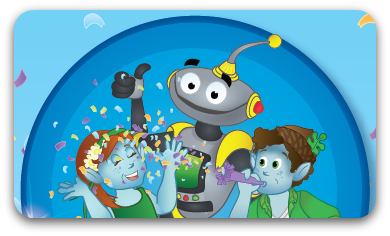 And check out this great coupon!! 

To see what others though of this check out this post. To see a wide variety of reviews check out our crew blog.

As a member of The Old Schoolhouse Homeschool Crew I review products like this, which I receive for free in order to be able to write my review.