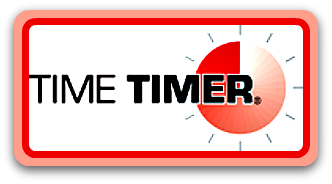 Time Timer
I use timers all the time. I need them to keep me on track. I use them to time how long to stay focused on a certain thing, whether household or homeschooling, from when to switch the laundry to how long of a break we should take. We even play a beat the timer cleaning game.
What makes the Time Timer different:
It is visual. It has a red area that shows you how much time is left.

It is battery operated, so it does not tick. It is not digital though.

It is portable. It is small and it has a face cover that turns into a stand. So easy to just drop in a purse or bag and not have to worry about it getting ruined.
Time Timer is nice because it is silent, it does not have the distracting ticking sound of a wind up timer. Which is perfect if you are distracted or pressured by the noise. It is also very visual because to show you how much time is left, even if the person cannot understand time.
It works great for Katey. She does know her numbers now, (whoo hoo!) She also knows some time basics. Such as nearest hour and nearest half hour. Lapsed time is different. This is great in helping her understand it.
In fact just last night we were going ice skating at 7pm. She kept asking how much longer, how much longer. I just set up the Time Timer for 40 minutes and she could see how long until we were leaving.
We have enjoyed the Time Timer as a Katey's special timer.
Katey clean your room, see if you can beat the timer.
Katey this is how much computer time you have.
Katey you can go play after this much quiet reading time.
and much more.
Time Timer comes in 3" (which I received) for $30, an 8" for $35 (my favorite, see below), a 12" for $40 and even a watch for $40. They even have a Time Timer iPad app and computer software.
The 8" is my favorite because they sell, separately, a sticker kit to be used with it.
You could have a morning or bedtime routine set up for you, your child, an elderly person, whomever. They would know what they needed to be doing now to stay on track. Even if they can't read!!! I LOVE IT!!
The Time Timer is so simple, yet so effective. Be sure to have a AA battery on hand when you order yours, which were installed after a little extra oomph from me. Also the beep at the end isn't very loud at all.
To see what others though of this check out this post. To see a wide variety of reviews check out our crew blog.

As a member of The Old Schoolhouse Homeschool Crew I review products like this, which I receive for free in order to be able to write my review, no other compensation is received.