Always Ice Cream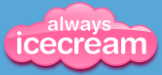 Website: Always-Icecream.com
Cost : $0.99 for the first month $4.99 each additional month. 

Bimonthly, annual and lifetime memberships are available as well. 
I started this review out with Emily's review, then I will move on to mine down below. 
Emily likes it.  She likes that it is all games.  There are many subjects to "play"  You earn ice cream scoops when you get the answers right. 
She is currently learning about multiplying fractions, she was VERY excited to discover that game on there. 
There is such a multitude of subjects like:
Bible Quiz
Health Quiz
Basic Anatomy
Beginning and Intermediate Typing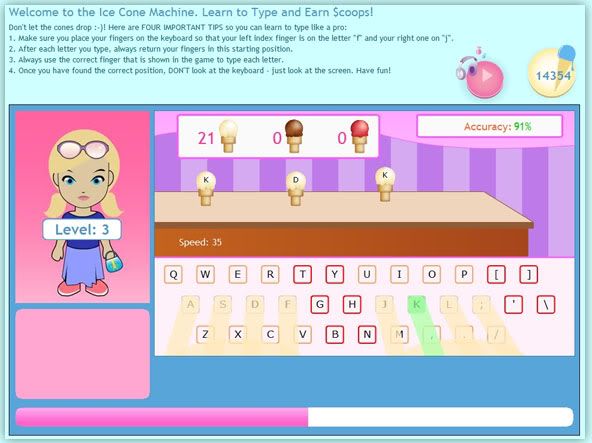 Math:
Addition, Subtraction, Multiplication, Division, Exponents, Fractions (adding, subtracting, multiplying and dividing
Classical Music Quiz
Dog Breed Quiz
Musical Instruments Quiz
Always Ice Cream is a fun site for girls.  You can learn from it and play games on it.  You earn ice cream scoops, kinda like money.  you can spend your ice cream scoops on pets or bigger houses.  Mini world, has a store where you can spend scoops on things like decoratations, or furniture for your house,  You can make stuff to sell in the art shop, and you earn more ice cream scoops if someone buys it. 
There is a pet world.  You get a virtual egg, it needs love, food, and fun.  You can spend your ice cream scoops on stuff for your pet, like pet houses.
I would recommend this website to my friends. 
There is a place to be friends with others, where all chat is moderated.  Each girl gets a special code that you would give out to those who are your real life friends.   Being friends with others is not necessary to enjoy the website. 
I have even found myself playing on the website.  My favorite is Intermediate Typing.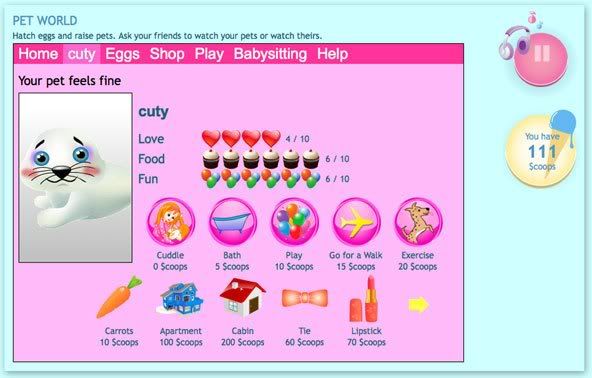 My 1st grader really loves Pet World.
Believe it or not, my 7th grade SON enjoys the European Continents Quiz.
Emily's favorite game is Basic Anatomy.
Emily hopes the Anatomy game gets an Advanced level soon.
We have a slightly older laptop that would freeze and get stuck on some of the games.  Luckily we also have a newer desktop that plays it just fine. 
Emily has chosen to play on this website whenever we give her free time on the computer.  
I hope they come up with a version for boys soon!  Tommy enjoyed many of the games, it is just that they are geared toward girls, (i.e.: being pink and a girl sharing the directions with you.)
There are also non educational games on the website too.  One of them is Ice Cream Shop, a time management game.  Dress the doll, A Laundry game, A Waitress game, A Toy Store Game, A Babysitting Game and more.  They do not earn ice cream scoops on those games.  You only earn scoops on educational games. 
They way the educational games work if you get an answer wrong is it will show you the correct answer and then you would start the level over. 
For example on the States Game, Level 1 will say travel to:  California
You would click on California, if you got it wrong then, California would light up, and you would restart and try again. 
Level 2 would be 2 states, California and another one.  Level 3 would be the states from level 2 and one more, and so on. 
This was very helpful for the states she didn't remember or know yet.
If you are worried about privacy issues with your children on the computer, Always Ice Cream has top notch security with Privio.   
They are also not found by search engines and everything is monitored by them.  Everything is also available to be monitored by you.  You can control what your children are allowed to do, from being friends to what games they can play.  Your also can see everything they do on the site with a simple parent report, it can be emailed to you and you can view it on the website parents account at any time. 
To see what others though of this check out this post. To see a wide variety of reviews check out our crew blog.

As a member of The Old Schoolhouse Homeschool Crew I review products like this, which I receive for free in order to be able to write my review, in which I will always share my honest opinions.