Marshall Publishing
Is the company that publishes those movies, you know the "Lots and Lots" ones.
Did you know that they offer educational movies as well?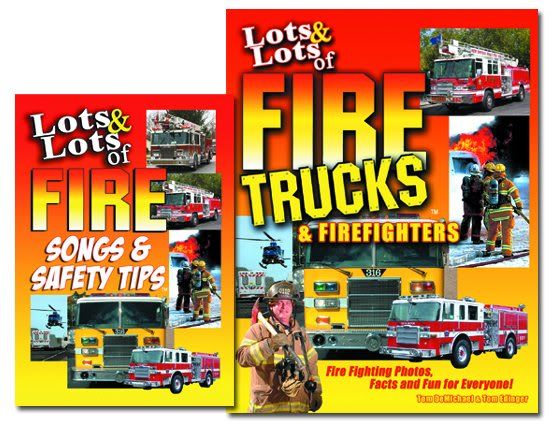 Lots and Lots of Fire Trucks is one of them.
I will be honest, when I saw Lots and Lots of Fire Trucks up for review it said the ages were from 4th to 8th grade. I thought they made a mistake and it would be for 4 to 8 year olds. I honestly had no idea how much more this video was than just a bunch of trucks.
Sure there are fire trucks and lots of them, but that just helped keep my children's attention longer, while the video went through fire safety tips and what to do if there is a fire. It was very informative so that (along with the trucks) kept my older kids interested. It was very sing song so that (along with the trucks) kept my younger kids interested.
On top of the video they offer a 20 Chapter 124 page book full of interesting facts, regarding fires, fire trucks, fire fighters, fire house RECIPES, websites to learn more, and a list of fire museums in each state, and more.
The video was best for my younger children. However the book is a real gem for my older children, especially my son (12) he is really into cars and trucks, particularly the details of them. The book offers many pictures and descriptions of many details, from things on the truck to gear the firefighters wear.
Another thing is that this book and video will teach your children of all ages what to do in case of a fire and if they are trapped by a fire to NOT BE AFRAID OF FIREMEN. Sure they are going to look scary, but they are there to help you.
The cost of this book and video is $49.90

On sale right now for $29.95
And then save an additional $10 using coupon code TOSF1
Check out Marshall Publishing today and see what they have for your child's interests.
They even have historical videos such as George Washington Carver, which some of the crew received for review as well!
To see what others though of this check out this post. To see a wide variety of reviews check out our crew blog.

As a member of The Old Schoolhouse Homeschool Crew I review products like this, which I receive for free in order to be able to write my review.