E-MEALZ is a website subscription that matches sale prices to a menu plan and provides a grocery list for you.

E-MEALZ has definitely 100% saved me tremendous amounts of time and thinking. 
I am not so sure if E-Mealz has saved me any money.  We do however go out to eat a whole lot less now then we did before E-Mealz.  I also feel like our meals are more complete now.  I chose the Wal-Mart Plan and our weekly plan for just dinner was around $80 per week.  It says it feeds 4-6.  I have 6 people in my family.  I found that I almost always had leftovers.  Two of my six are small children. 
I am grateful for E-Mealz in my life right now.  I have had it to take a load off my shoulders while we get through the start of school.  I have been able to have much more time with my family.  I know that I have all the ingredients I need for the weeks dinners already, there will be no need to run to the store.   I know that E-Mealz will help me get through the Holidays with less stress on what will be for dinner and more time to focus on making memories with my family.  
The grocery list is organized by sections of the stores.  Each list has the details of price and brand of what item.  That makes delegating shopping so easy.  
My husbands opinion on E-Mealz, is that it is pretty good.  Some of the meals he wouldn't want me to make again.  But that is not a big deal, because in the amount of time I have had E-Mealz they have not repeated a meal once.  He is very much a "meat and potatoes" kind of guy. 
I love their recipes.  They have a been family friendly and easy to prepare.  From the meals I have cooked, I have noticed that they do incorporate the food pyramid into it.  Each meal has a meat, grain and vegetable, most meals had fruit.  The meals I saw were all pretty easy to substitute if needed.  (Although we do not have any special dietary needs here).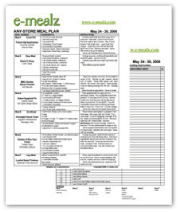 I feel like E-Mealz has a solution to many problems you think you may have with them. 
You don't like a meal for the menu plan that week?  Then just cross out everything with that meals number on the grocery list, and plan one of your family favorites. 
You have special dietary needs? Vegetarian? Low fat? Portion Control? Gluten Free? Low Carb? Yep, they have those too. 
You don't have four to six people to feed each night?  They have 5 meals a week for 1 to 2 people plans too.
Only go grocery shopping once every two weeks.  They provide you with the current week and the previous weeks plans.  However, since they are going off of the sale prices, sometimes the sales end.  You would need to do that shopping before the sale prices ended.
They have menu plans for a variety of stores, the only store near me is the Wal-Mart plan.  I wasn't doing my main grocery shopping at Wal-Mart before this, but decided to try it.  I did notice that the prices did not match up exactly.  I chalked that up to where I live.  I live in a very small town.  The prices were not very different though.  About $0.10 here and there. 
They have menu plans for Kroger (which we have here, but they did not have our region, yet), ALDI, Publix, Ralphs, Wal-Mart and an Any Store Plan (which will not give you the prices.) 
Check out their Wal-Mart sample menu here.  They have other sample menus available on their website as well.
E-MEALZ is $15 for 3 months, with an automatic renewal.   (So you don't even have to think about that)
Also, E-MEALZ offers vacation meal planning!  This will be so handy for me.  I am always in charge of planning the meals for our big family vacations.  You can choose a menu to feed 12 or 24 for $6.99 and the meals should cost about $2 per person for dinners.  What a sanity saver!
Check out E-MEALZ .
To see what others though of this check out this post.  To see a wide variety of reviews check out our crew blog. 

As a member of The Old Schoolhouse Homeschool Crew I review products like this, which I receive for free in order to be able to write my review. I will always keep my reviews honest.  However, I have loved E-Mealz so much, I became an affiliate and will earn a small commission on any sales purchased through my links.