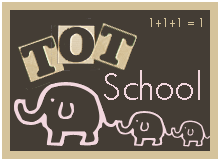 This week Tyler has been practicing a lot of life skills. 
He has been getting better and better at riding his Strider bike.
He went swimming.
He chose a healthy snack over crackers.
He stomped on some sand castles, made especially for stompin' on.
He played in the sand adding water down our river replica.
He even took a mud bath. 
He played in a band. 
He cracked me up with this.  He kept pushing the Leap Frog toy to sing the ABC's and then he would drum to the song.
He loves loves loves his Leapfrog ABC spinner ball.  He played with that a lot.  He like to spin it as fast as he can so that it doesn't stop singing the ABC's. 
We did a do a dot page with trains and the letter T. 
I am going to need to work with him more on these.  He makes a mess with the paints and I walked away for a second and came back and he was drinking one.  So, we will need to practice with these more. 
He stamped a get well card with his sisters. 
We did many family things this week as well that he participated in. 
This is linked up to Tot School over at 1+1+1=1.